Welcome to Physical Therapy Specialists
Physical Therapy for Indianapolis, Noblesville, Fishers IN, Carmel IN and Lawrence IN Communities
Our clinical staff is at the forefront of orthopaedics and manual physical therapy, being among the highest trained practitioners in Indianapolis.
Physical Therapy Specialists is committed to providing superior one on one care to help each patient reach their maximum potential.
Jeff and Kristin Busha each have over 20 years experience and specialize in a unique approach to patient care that gets unparalleled results.
When you visit Physical Therapy Specialists you will quickly recognize a quality of care and expertise that GETS RESULTS.
Dr. Jeff Busha has received his certification in Dry Needling. What is dry needling? Dry needling, also known as trigger point dry needling (TDN) and intramuscular stimulation (IMS), is a safe, effective and efficient treatment for:
Relaxing myofascial trigger points, and
Restoring normal muscle tone, muscle length, coordination, function and strength.
Dry needling is used to treat a variety of conditions, including:
Head and Neck Pain
Otological (Ear) and Opthamological (Eye) Pain
Shoulder Pain
Elbow, Arm, Wrist and Hand Pain
Back and Hip Pain
Knee, Shin, Ankle and Foot Pain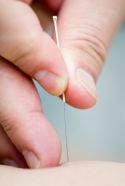 Call our office today to schedule an appointment or click here to request an appointment online.
Physical Therapist Owned and Operated
Established in 2004, Physical Therapy Specialists is a private practice specializing in manual therapy, orthopaedics, and sports medicine. We pride ourselves on getting results, even for the most difficult problems.
Direct Access PT
Did you know in Indiana you can now see a PT directly without a referral?